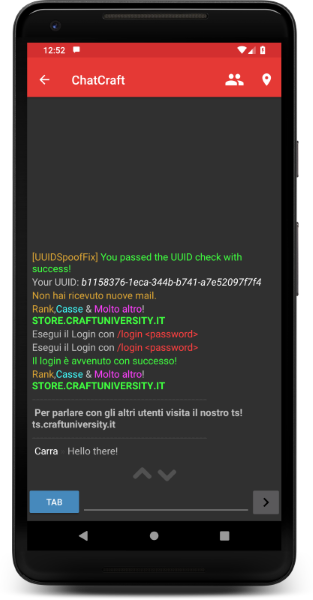 Added a mini-map and support gravity for 1.9+ servers.
Added an option to try Pro features for free a couple times a day.
This is a huge release in terms of stability, performance and ram usage.
I've spent a ton of time optimizing the code and trying to reduce memory usage.
This update should bring better user experience, less ram consumption, better performance and should improve the afk experience.
Check-out https://chatcraft.app/afk-support/ for optimazing AFK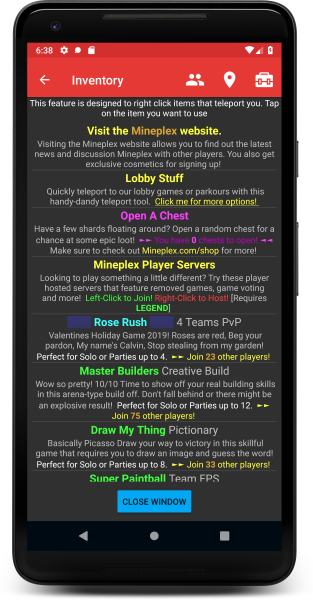 ChatCraft for Minecraft allows you to connect to every Minecraft Vanilla, Forge, Bukkit, Spigot and Sponge server!
This app supports minecraft 1.5.2 to 1.14.4!
Features:
• Connect to any Minecraft server from version 1.5.2 to 1.14.4!
• Full support for chat colors
• Mini-map and gravity
• Move your player
• Inventory: click on the items in your inventory to teleport across the server!
• Chat logs: you will find chats of your Minecraft sessions
• The best AFK experience: automatically reconnect, recurrent movements/messages/commands
• Customizable notifications when being attacked or when you receive a particular message
• Supports Forge servers
• Player list with skins
• Supports multiple accounts: you can use different usernames to login in different servers
• Auto teleport to spawn after login
• Auto login or register: ChatCraft can remember the password you use to login on non-premium servers to login even faster!
• Tab complete and Message history: you can navigate through messages that you already sent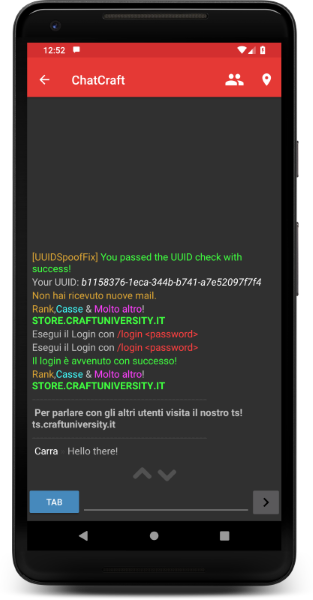 Chatcraft is an app used worldwide.
Translations are not available in all languages yet, if your language is missing you can help us add it to the languages available.
For info contact us here.
Available languages: Arabic, Chinese (Simplified), Chinese (Traditional), Czech, Dutch, French, Indonesian, Italian, Korean, Polish, Portuguese, Romanian, Russian , Slovak, Spanish, Thai and Turkish.